Metabolic Matrix . Info
The Metabolic Matrix, a groundbreaking tool for transforming the food and beverage industry, places metabolic health & nutrition at the heart of food system change.
Metabolic Matrix
"Metabolic health" – the primary marker and outcome of nutritional security – needs to be re-conceptualized as a fundamental organizing principle to drive food system change. Chronic disease driven by processed food provided the backdrop for COVID-19 spiraling out of control.
Fundamental and structural changes are needed in the way the food & beverage industry engineers foods, with metabolic health as the "North Star." Linking good food, metabolism and health reduces or eliminates preventable, diet-related diseases and the financial burdens they foster.
A scalable, replicable framework for doing this is described in a "metabolic matrix," a science-based template for designing foods that ensure metabolic health.
An overview of this concept is described in an article (Food Meets Health: How a new approach to metabolic health could tackle chronic disease) and a paper (Health Meets Food through a Metabolic Matrix) posted on the World Economic Forum website.
The metabolic matrix is also prominently featured in a WEF community paper titled Achieving Societal Resilience: The Nutrition Opportunity.
The metabolic matrix work is also described in this infographic in English and Arabic. A slide deck is also available in English & Arabic.
Metabolic health is the key to long-term nutritional and economic security. For this reason, the "metabolic reset" dialogue provides rich opportunities for cross-sector collaboration and alignment where food meets health.
A number of metabolical actors are involved with this model, and the intention is to encourage the investigation, development, scaling, and replication of the model as widely as possible.
A methods paper detailing the development of the model has been written and published in Frontiers in Nutrition (see link below).
Rather than take a proprietary approach, KDD has chosen to share the framework with multiple stakeholders, including industry, government, and academia. This open approach has invited critical feedback and input, assuring that the Metabolic Matrix is a systemic solution that can be scaled and replicated and evolve as a powerful tool for food system change.
Currently, only 49 (18%) of consumer-facing companies share how they are adapting products to improve their nutritional quality, and just five companies have set targets to increase sales from healthy foods, with retailers leading the way.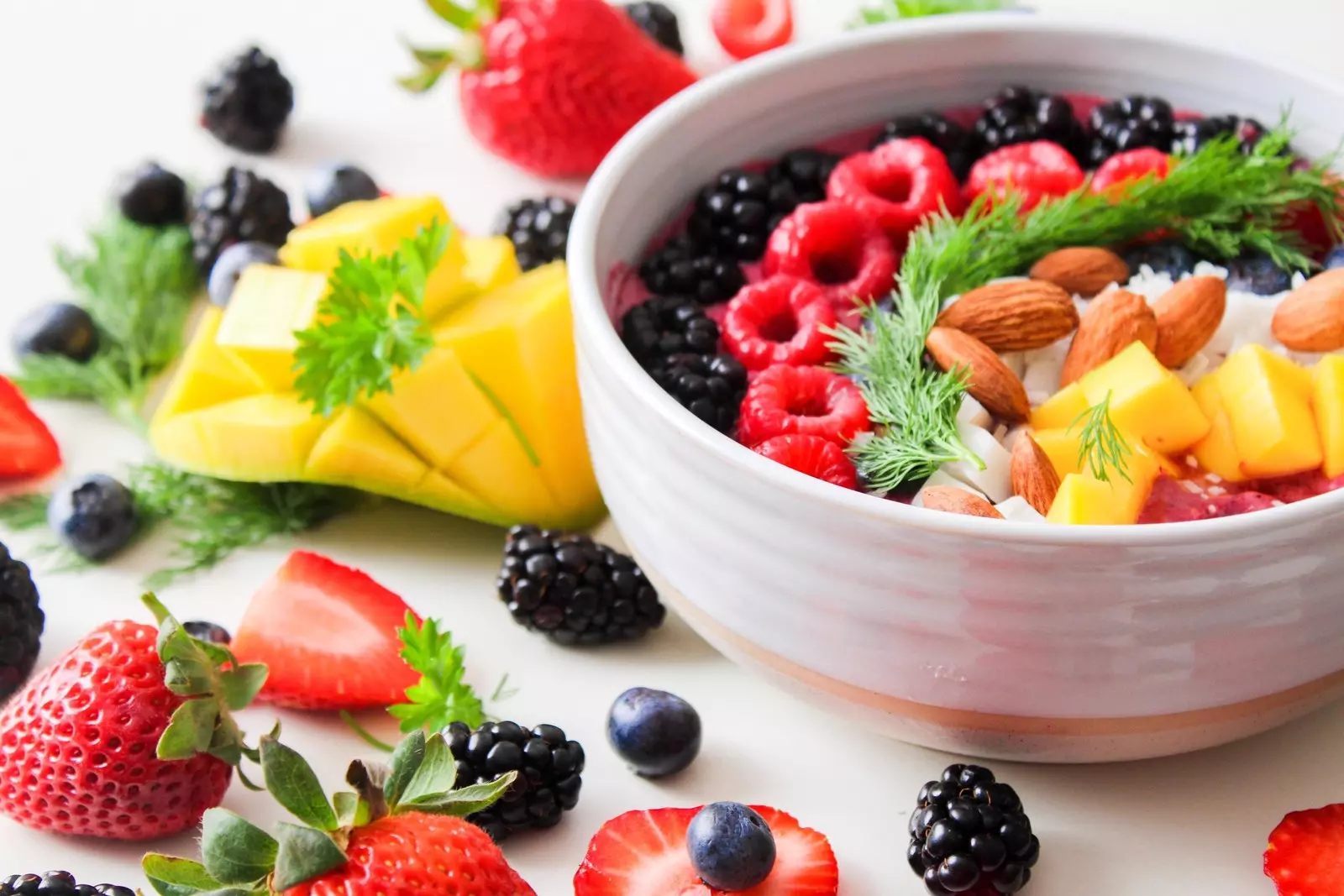 How the new future of nutrition puts holistic health first
Consumers are increasingly seeking healthy, affordable food but the market is dominated by unhealthy choices.

Global issues, such as climate change, geo-political conflicts, and the pandemic, are putting pressure on food and nutrition security.

The 'Metabolic Matrix' aims to serve as one example of how the food and beverage industry can reengineer its products to improve human and environmental health despite these challenges.
Click here to read the full article on the World Economic Forum platform.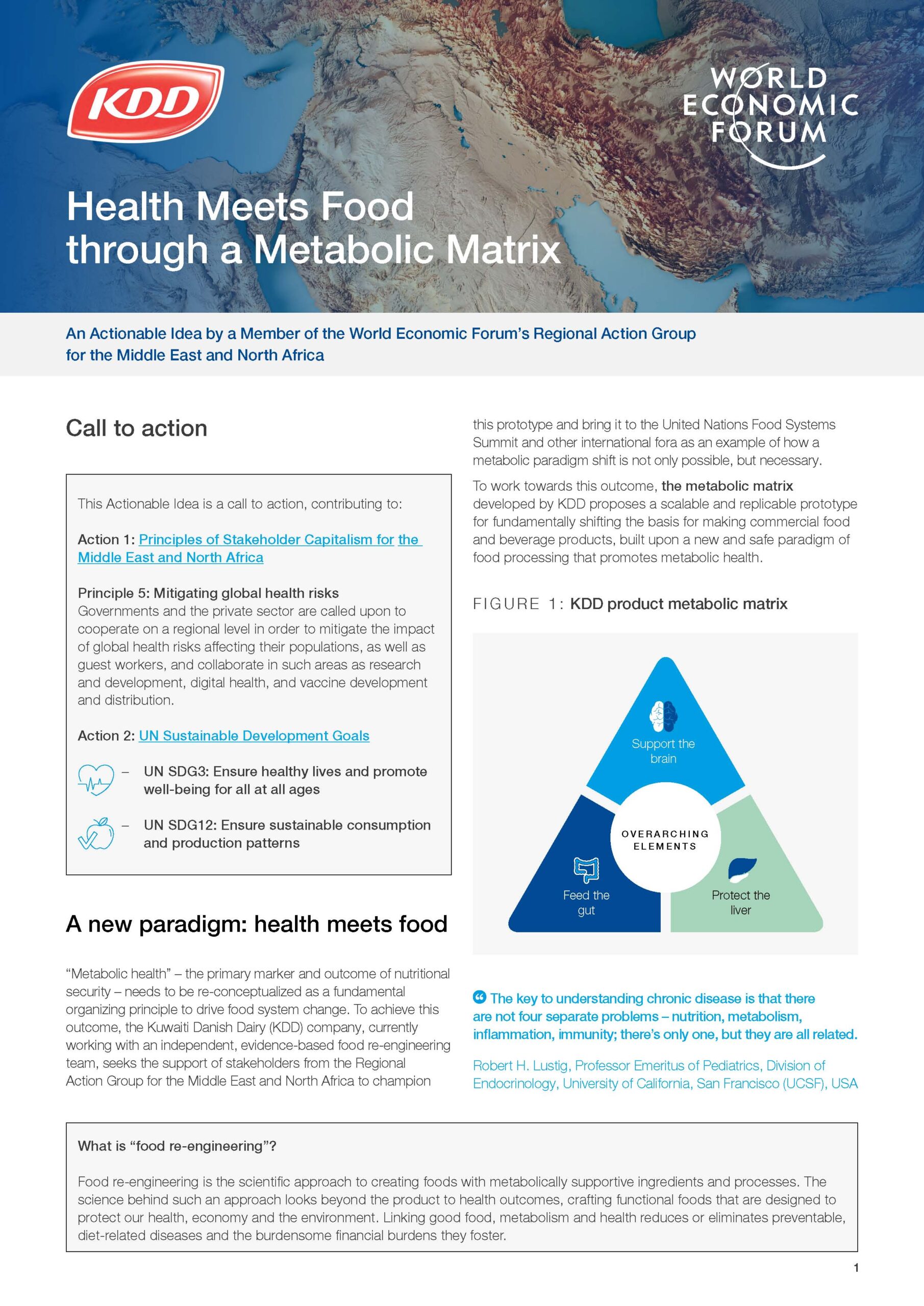 NEWS FLASH!
Abstract
Ultraprocessed food is established as a metabolic disruptor acting to increase adiposity, reduce mitochondrial efficiency, drive insulin resistance, alter growth, and contribute to human morbidity and mortality. Consumer packaged goods (CPG) companies are beginning to understand the detrimental impact of the food they market, and have employed substitution strategies to reduce salt, sugar, and fat. However, the harms of ultraprocessed foods are far more complex than any single component, and are not ameliorated by such simple substitutions. Over the past 2 years, the authors have worked with the Kuwaiti Danish Dairy Company (KDD) to conduct a comprehensive scientific evaluation of their entire commercial food and beverage portfolio. Assay of the macronutrients, micronutrients, additives, and toxins contained in each of their products was undertaken to determine the precise nature of each product's ingredients as well as the health impacts of processing. The authors formed a Scientific Advisory Team (SAT) and developed a tiered "Metabolic Matrix" founded in three science-based principles: (1) protect the liver, (2) feed the gut, and (3) support the brain. The Metabolic Matrix categorizes each product and provides the criteria, metrics, and recommendations for improvement or reformulation. Real-time consultation with the KDD Executive and Operations teams was vital to see these procedures through to fruition. This scientific exercise has enabled KDD to lay the groundwork for improving the health, well-being, and sustainability of their entire product line, while maintaining flavor, economic, and fiscal viability. This process is easily transferrable, and we are sharing this effort and its approaches as a proof-of-concept. The key aim of our work is to not only make ultraprocessed food healthier but to urge other food companies to implement similar analysis and reformulation of their product lines to improve the metabolic health and well-being of consumers worldwide.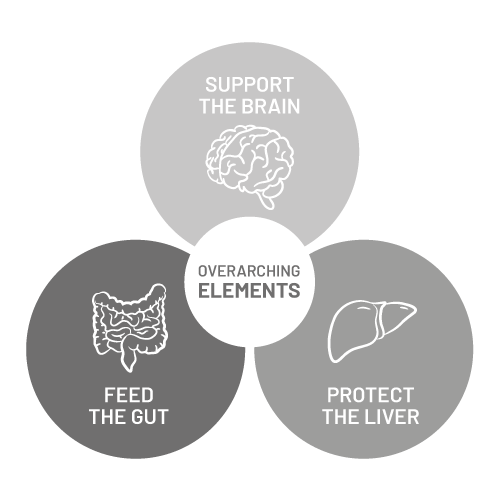 Food is the only lever we have to effect biochemical change to improve our health. The Metabolic Matrix focuses on three pillars of the human metabolic system: the brain, gut, and liver. If a food or beverage is harmful to one or more of these organs, then we must question its role in our diet. Click on the icons below to access scientific references supporting each of the three pillars.

Support the Brain
Through nutrient-dense foods
With healthy and brain-essential fats
With healthy proteins providing sufficient and appropriate amino acids
With "brain-selective" nutrients which help govern neurotransmitter function

Feed the Gut
Reduce processed carbohydrates
Whole intact food (cellular) matrix
Provide prebiotic nourishment (Soluble fiber & Insoluble fiber)
Replace probiotic nourishment (gut microbiota)